Naturally durable larch for gardens and yards
Larch is very dense grained wood that is naturally durable and rot resistant. Untreated larch lasts up to 20 – 30 years and is often used for decks, stairs and other outdoor structures. Larch timber turns grey relatively fast in outdoor use.

Did you know?
Hundreds of years ago, rot resistant larch was highly popular in ship construction, especially for building decking. This is no surprise – larch becomes very hard and long-lasting under water.
A tip to deck builders:
To avoid splitting, place the better side of wood upwards, "hide the heart of wood" as we Finns say. This way, natural cracks will not be exposed, giving the surface a smooth look and feel.
---
Planed larch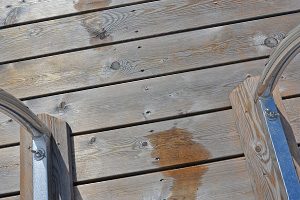 Sizes (mm)
28×95
28×120
28×145
45×95
45×145
45×195