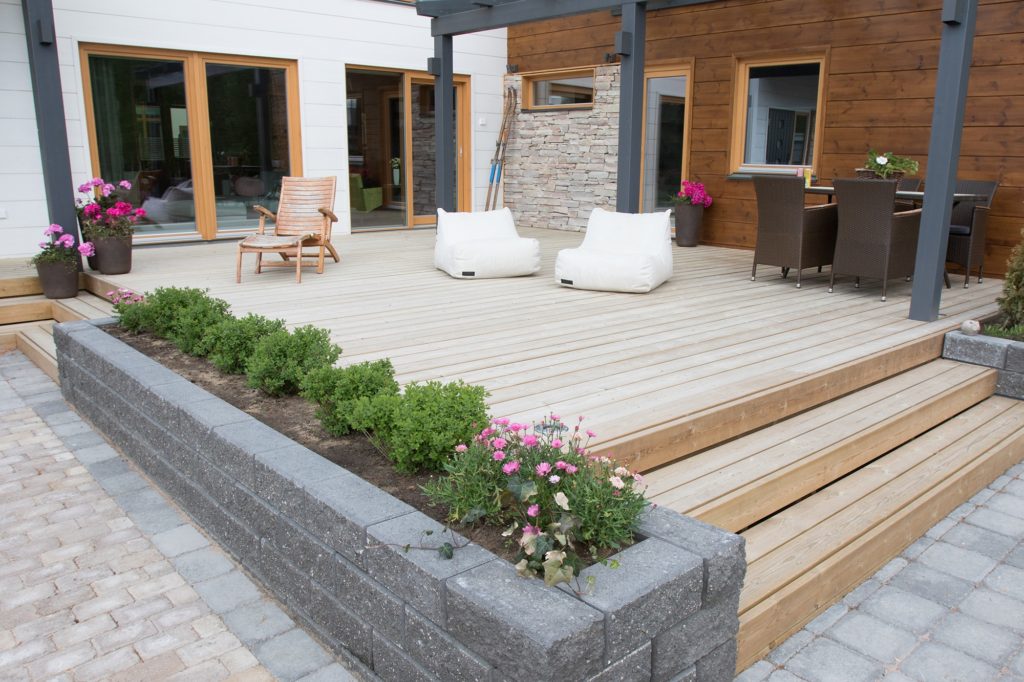 Look also these
A guide to deck building
Make the most of the long summer days and build your own deck. Dining outdoors, relaxing in the sun and cooling off after sauna are among the highlights of the Finnish summer. Before starting your building project, check our tips below.
Careful preparation
Check from your local authorities if you need to have a building permit. In most cases, it is not required for building a deck. The Kestopuu calculator helps you to determine the right quantity of wood and screws needed in your project.
Lay the foundations
First clear the site from plants and weeds. If the ground is firm and does not suffer from frost heave in winter, you can first lay concrete pads on the ground and place hollow concrete pillars on top of them. Use a spirit level and straight edge to check that the pads are level with each other, then fill the concrete pillars with ready-to-use concrete.
Build the frame
Use planks to build the frame. Measure your deck frame, cut to size and assemble. Install interior joists at the intervals of 500 mm. If you are building a deck with railings or a balustrade, fix the deck posts at this stage.
How to lay deck boards
First take an accurate crosswise measurement. Starting from the front of the deck, lay down the deck boards. Remember to allow for an expansion gap between the boards – placing a pencil between each board is a simple way to do this. If the wood is wet and heavy, use a narrow gap because once the wood dries, it shrinks!
Are stairs required?
Measure and cut to size two step risers and join them with e.g. joist off-cut to the same width as the step treads. Place the step risers on top of the concrete pads and fasten onto railing posts. Fix the steps.
A final touch with a balustrade
Build a balustrade frame with top rails, bottom rails and spindles. Screw the end battens and attach to the corner posts. Fasten the hand rails.
For more advice, contact your timber retailer!
Sawn board or grooved deck board? Check our selection here.